The same group by photograph.
Joan's grandmother, as a child with her mother and aunt.
Included are Joan's 2xGtGd mother and 3xGtGd mother.
Painting "Five Generations" possibly mid 19th century.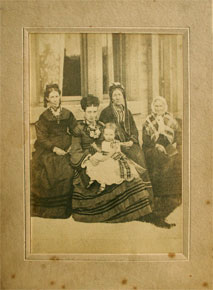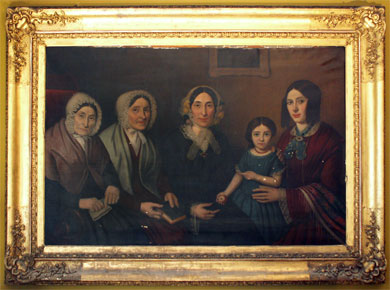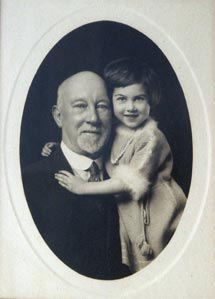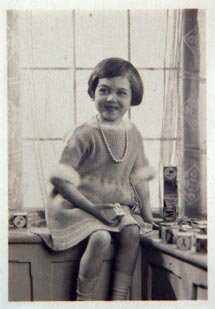 Designs, files and images on this web site, or elsewhere, in any form wholly or partly, are
copyright
©
Malvern Hostick, the executors of the estate of Joan Hargreaves, or clients, unless otherwise stated.
Click here to go back to top of page
---
---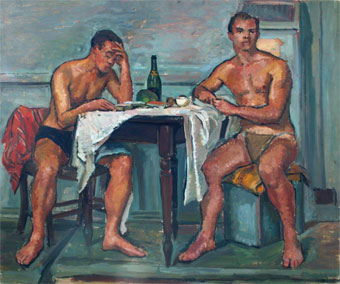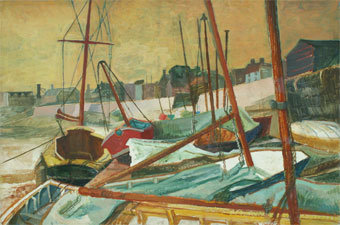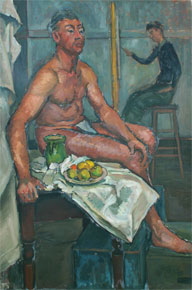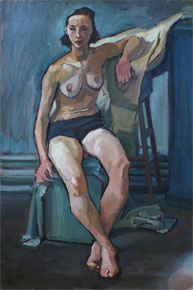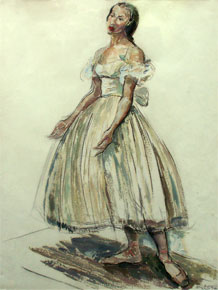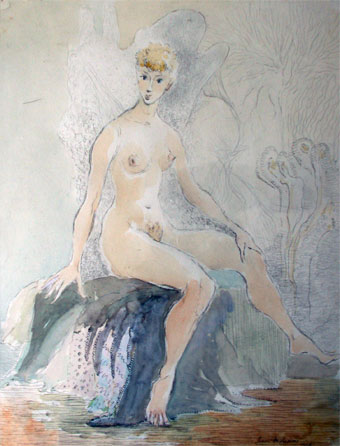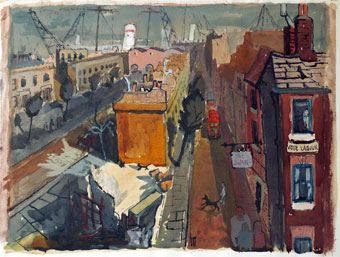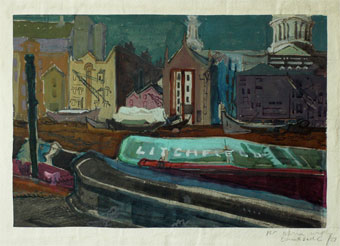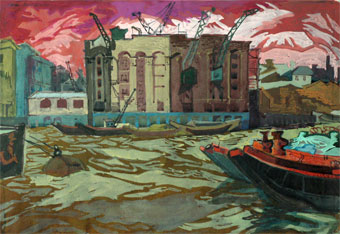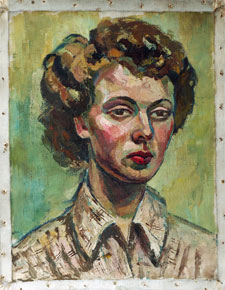 ---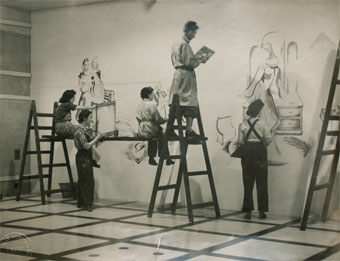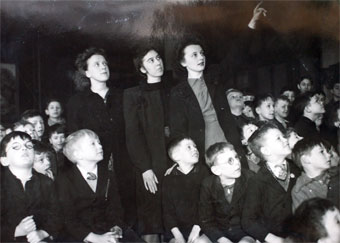 Joan painting a mural in Manchester Town Hall.
Nov. 1944. She is standing on the left.
Joan (centre) possibly describing mural art to
a group of school boys.
Joan as a child in the 1920's.
With her grandfather William Sucksmith.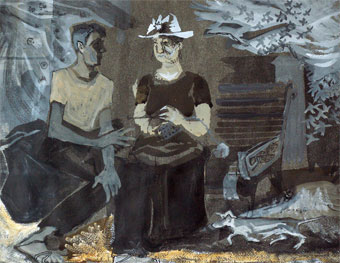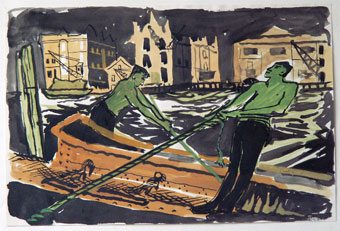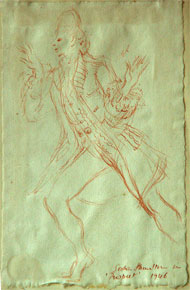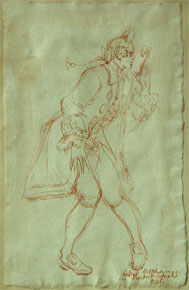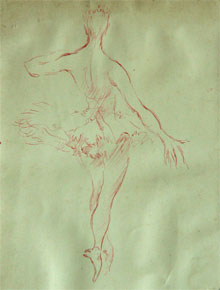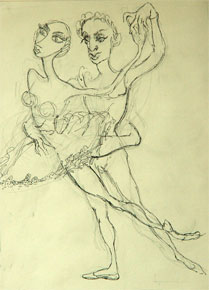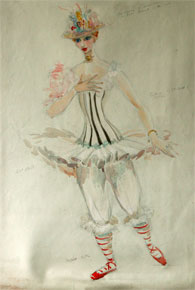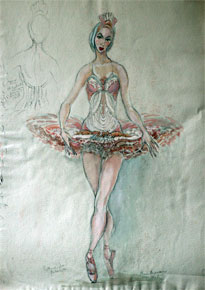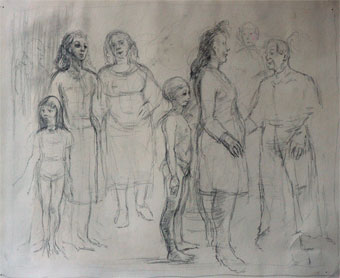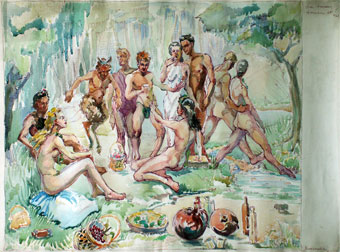 Drawn by Joan Hargreaves
Nov 20th 1939, at age nineteen.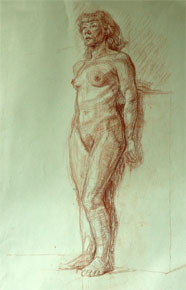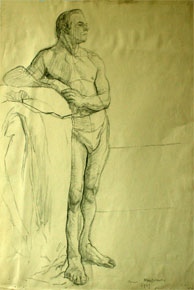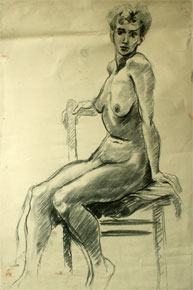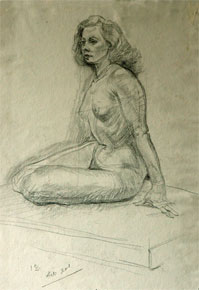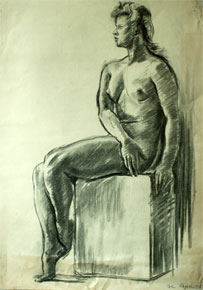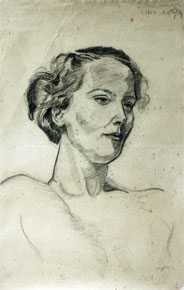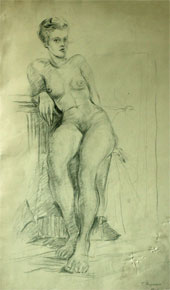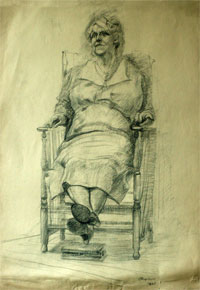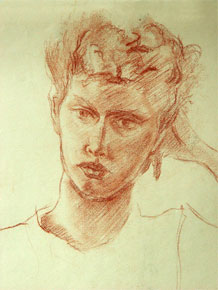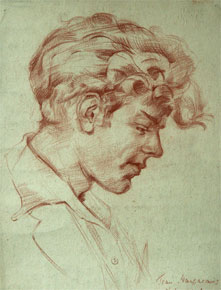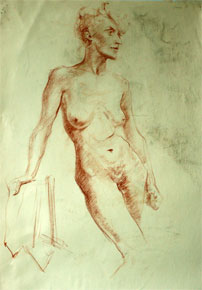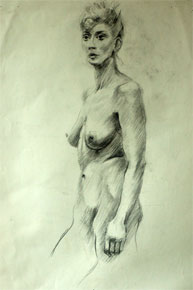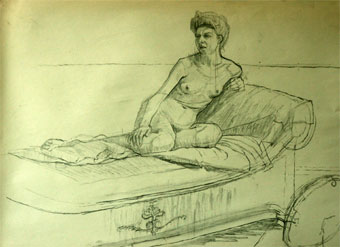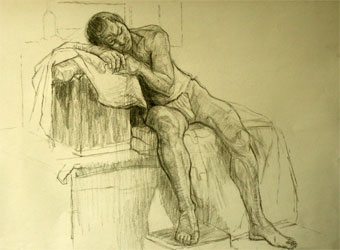 Drawings from Life. From the 1940s with Joan in her late twenties:

This web page is a prelude to Joan's newly established web site - link: joanhargreaves.com
Joan died in February 2007, aged 86, leaving a considerable body of work.
This work now resides at the MMU archives and The Whitworth Art Gallery in Manchester.
Her family's historical artifacts now reside at the Rossendale Museum, and
The Lancashire Record Office at Preston.

Joan's web site includes not only her work, but biographical details
and historic and family history background, with photographic images.
Those who knew Joan will be able to add reminiscences.
Information and anecdotes about Joan for the site's 'Guest Submissions' page can be logged by emailing:
emailmalvern@aol.com


Below you will find examples of Joan's paintings and drawings going back to
the late 1940's, with other historical imagery.

This page last updated: March 4th 2010.


To see more of Joan and her work, click here for the WMC Life Class.
Joan Hargreaves ARCA, DA, NDD.
1920- 2007.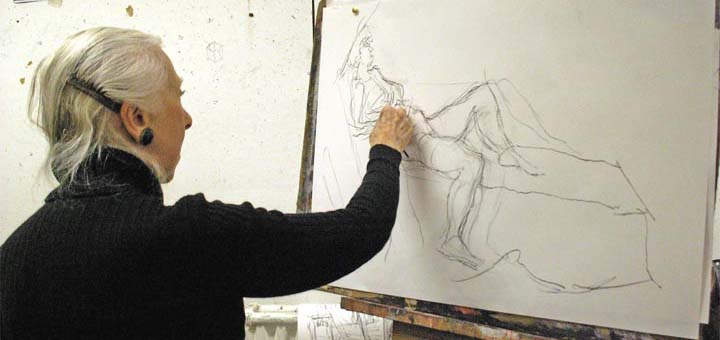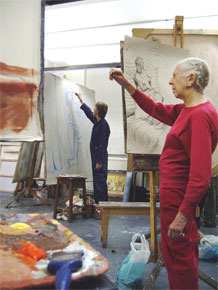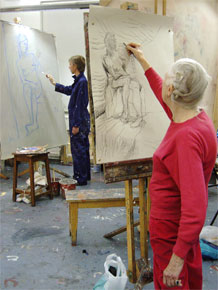 Born at Whitworth, Lancashire, UK, within a cotton mill-owning family,
Joan took a degree in drawing and painting with a mural art diploma
at Manchester School of Art, attaining a fourth-year scholarship. Later, she was awarded a Royal Scholarship on entrance to London's Royal College of Art, where she completed a post-graduate course in 1949.

Early in her career she was a member of the Manchester Group.
L.S. Lowry was a member too; an acquaintance whom she recalled
attending meetings, and occasionally giving lectures after his
rounds as a rent collector. The Group, chaired by another
acquaintance, the wood engraver Margaret Pilkington of the
philanthropic Pilkington Glass family, met at the Whitworth Art
Gallery, also run by Margaret Pilkington. Joan exhibited regularly
with the Manchester Group, at the Manchester Ballet Club, in
travelling Arts Council exhibitions, and at the Manchester Gallery.
She also designed murals for UMIST (Manchester). After settling
in London her exhibitions would include those at The Royal Albert
Hall, and with the London Group.

She taught in various art schools and colleges up to degree level,
and lately lectured on anatomy with movement at the Slade School of Fine Art Summer School. In fact Joan was an acknowledged authority
on combining these disciplines informed by her association with the
ballet; an expertise rarely found nowadays. These were
encouraged for many years within her own course 'Anatomy, Life and
Movement,' the only one of its type in London, perhaps in the UK.
To her classes she attracted professional painters, sculptors,
architects, and those studying within higher and adult education,.

Joan never stopped her own work, lately mainly drawing.
As a respected source on art anatomy and movement in figure
drawing, she offered instruction regularly.
She continued to exhibit, with others and in one-woman shows.
---
---
Joan's currently known work includes over 50 paintings, with portfolios of her earlier drawings, colour
sketches and mural designs, from the 1940s / early 1950s, and later drawings from the past ten years.
Reverse of portrait of Shanti Dutt.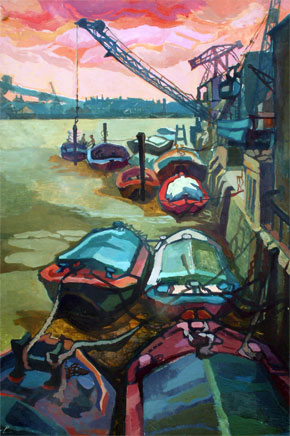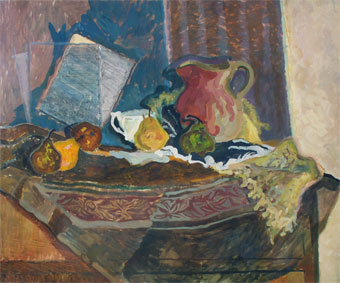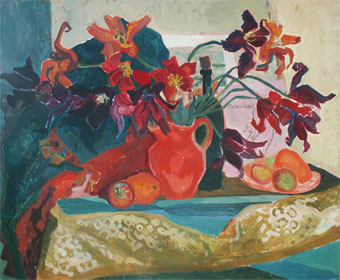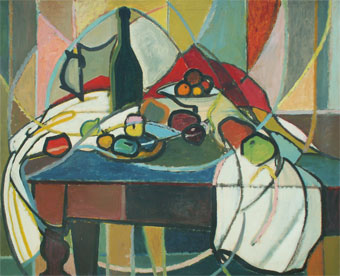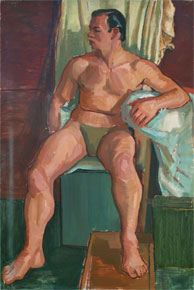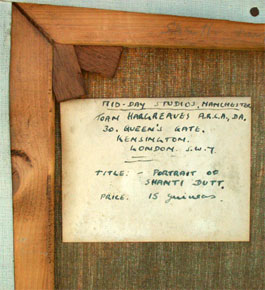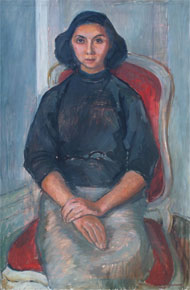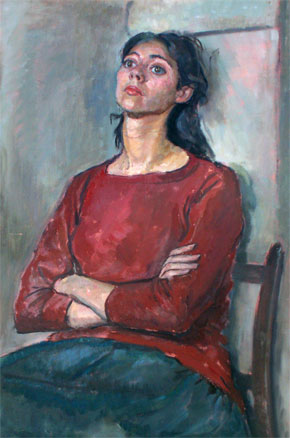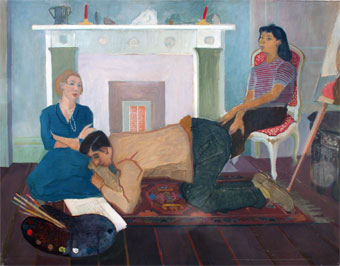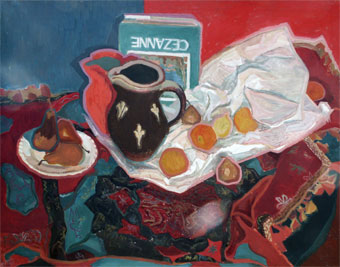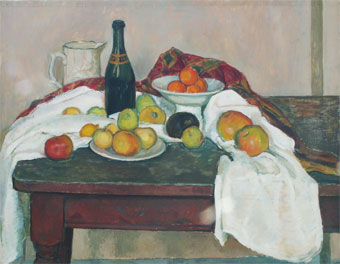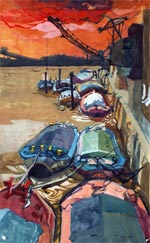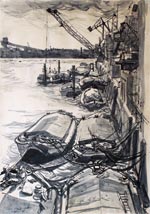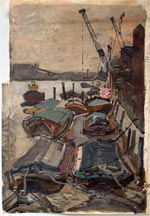 A London Wharf.
Preliminary work , with
finished painting right.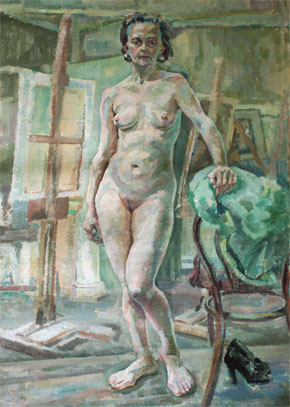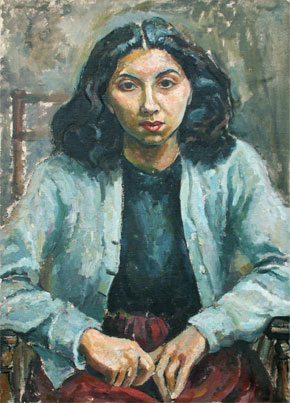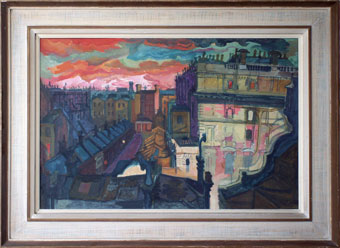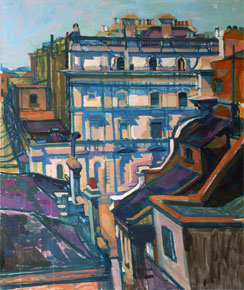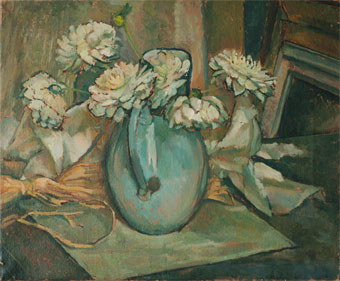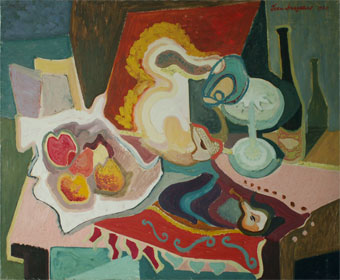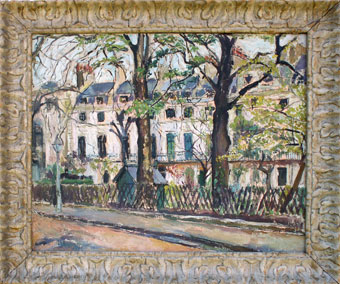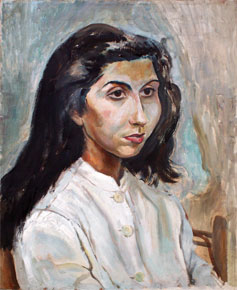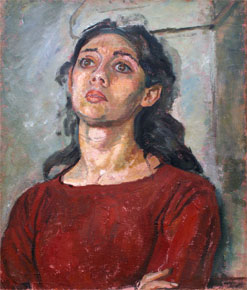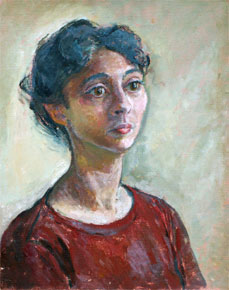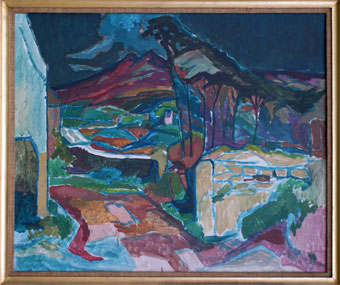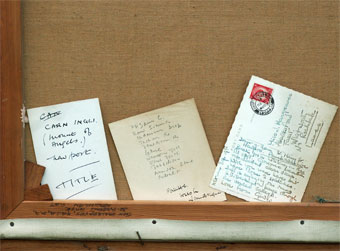 Reverse of 'Carn Igli.' Includes note of colours used,
and associated correspondence.