---
---
Click here to go back to top of page.
Designs, files and images on this web site, or elsewhere, in any form wholly or partly, are
copyright
©
Malvern Hostick or clients
,
unless otherwise stated. All rights reserved.
Fernando Leon-Guiu and Terry Brady share a moment of anecdote and humour.
Eve Campbell and Joe Barrow share a moment of reflection.
Monika Smolinska and Terry Brady discuss the work while John Joseph (foreground) observes, and Pey Kan Su (background) takes the opportunity for a distance view of his study.
Model Fabiana Gomez, with Joan Hargreaves and Squaddie, (who often
manages an appearance in paintings.) The model backing shown is a 20 ft. x 14 ft. copy of a Leon Bakst design for Phaedra, lit by theatrical lighting.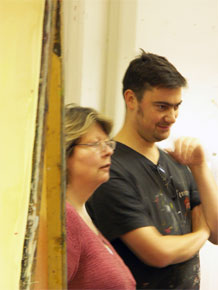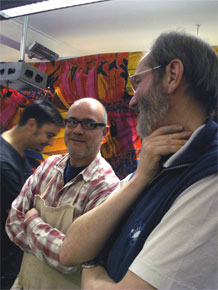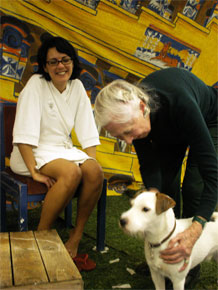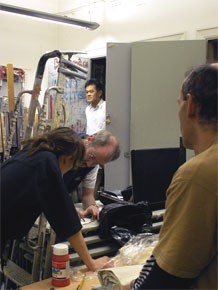 Alisa Yemini preps a background for her study. Here she is using a high temperature prime/lay-in.
Percy Sher fine-tuning the drawing out on 6ft. x 5ft cloth. He is making use of a digital photo of the model taken during the first week of a four week pose. This, with other shots of work in progress are emailed to class members every week, helping them to 'keep in touch' with the painting, and plan progress for the following session.
Fernando Leon-Guiu, James Higgins and
Pey Kan Su preparing canvasses for the class.